https://www.youtube.com/watch?v=y_xzh5ESBKE&search=buck%20owens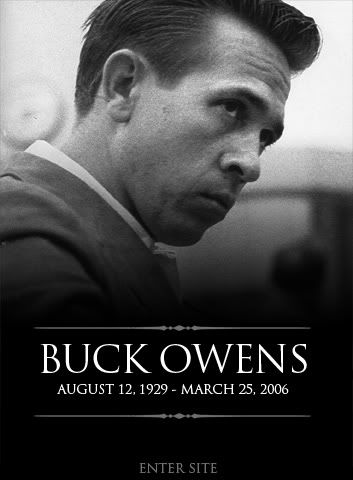 http://www.mercurynews.com/mld/mercurynews/news/breaking_news/14186320.htm
More Musik :
https://www.youtube.com/watch?v=7K0_JHht_Nk
https://www.youtube.com/watch?v=y_xzh5ESBKE
Tom Brumley interview :
http://www.neoshodailynews.com/articles/2006/03/25/news/02buckowens.txt
A fitting tribute to a true giant and an original.
Buck's confidant Larry "Shotgun" Daniels,the three sons and his nephew gave eulogies with a great touch of humor along the way.
His nephew talked about the annual Company retreat where they'd brainstorm.
At the end of the meeting, the sons and the nephew would vote for what they thought was best for the Company.
Then Buck would tell them "you boys go ahead and vote and then do what I told you".
Chris Hillman, Herb Pederson, John Berry, Dwight Yoakam, Brad Paisley, and Lulu Roman sang the hymns.
The balding Yoakam told a story about Buck advising him " to think about wearing his hat more".
There'll never be another Buck Owens. That you can bet the farm on.
https://www.youtube.com/watch?v=pL_Qe74Z-jo&search=buck%20owens
http://www.latimes.com/features/printedition/magazine/la-tm-firstandspring13mar26,1,6245787.story?coll=la-headlines-magazine